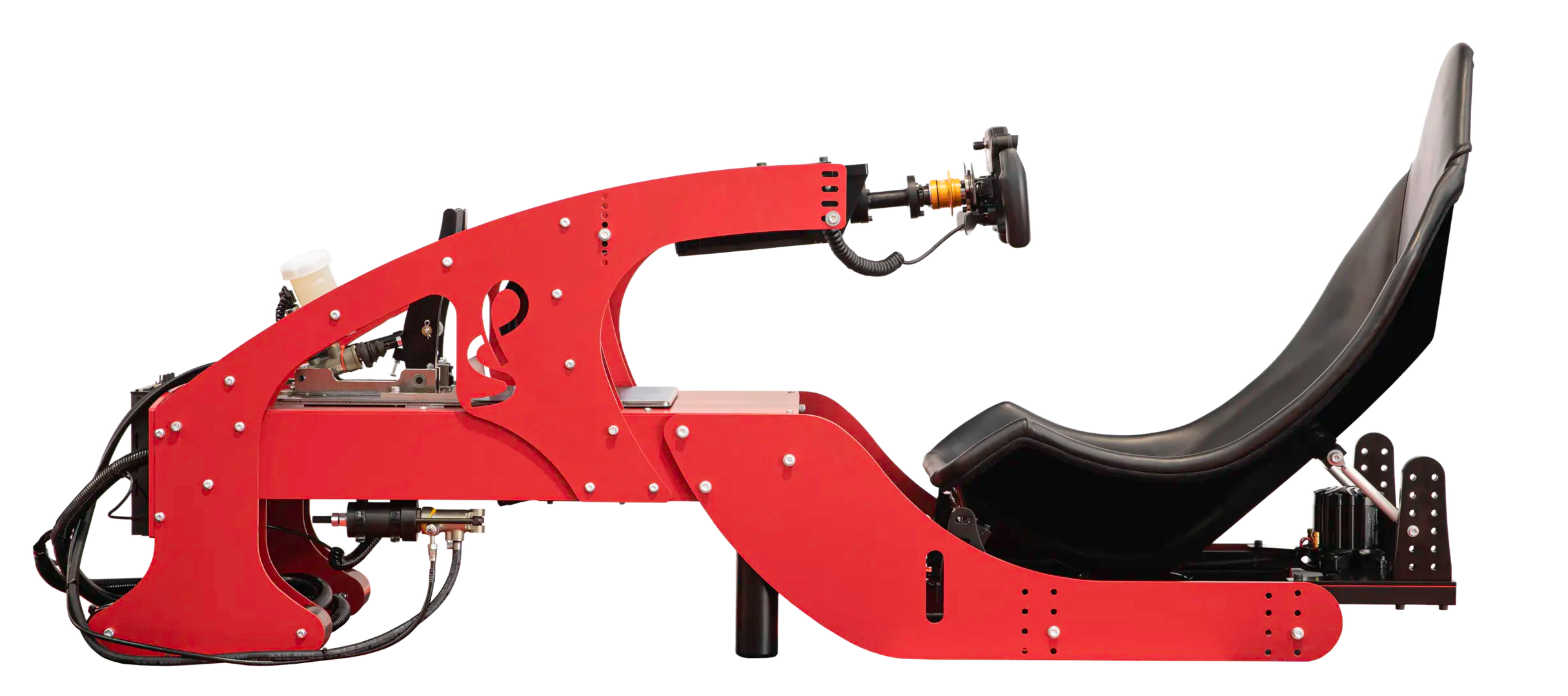 Our frames are designed, manufactured and built in-house using the very best materials and finishing to ISO9001 standards. When we are building a frame that's high quality, we can very easily offer a lifetime warranty on all the parts featured on our Formula, GT and E-Sport racing simulators. Up until 2022, we have had not a single warranty claim. We believe this is a testament to the build quality of our simulators.
Our cockpits are so sturdy you can stand/jump on them while somebody is driving and the simulator will not move. This is due to the metal strength and the way we have positioned the parts that meet the floor.
To make sure you have the most sturdy simulator you would think you require a completley flat surface, this is very rare to find and thats why we have developed a system which allows the simulator to sit flush on the floor with the use of adjustable front feet. As you can see on the left there are round 'disks' which sits on the bottom of the front of the simulator. These can be turned as the 'disks' are made with different gradient according to how far you turn them, allowing our simulators to adapt to the surface you put it on.
All of our cockpits use the highest grade aliminium which are laser cut powder coated to ensure the highest level finish. Our simulators can be customised to any RAL colour code and laser engraved with your logo or initials on any parts of the simulator cockpit. This is one reason we produce our cockpits in-house. We do not use any metal tubing to produce our cockpits, because metal tubing will flex with the high forces put through the frame.
Integration, our simulators are not just strong but the space within the cockpits which you do not see are optimised to encase all of the wiring and special features such as the eletronic pedal system. This is something we believe in strongly, nobody wants a simulator with cables hanging out all over the room. All of our simulators feature cable integration. We also make the design simple enough that should you want to change a cable over, it can be done with ease.
All of our cockpits are designed for maximium longevity and driving experience. Many simulator cockpits feature large overhanging for the mounting of the steering motor. We discovered that the overhanging metal vibrates with the high powered steering motors, which gives the frame vibration movement of 0.5cm-1cm vertically. That is why we use short re-enforced overhanging parts which are thick sheets of metal to ensure there is no movement of the simulator frame when you are driving.
.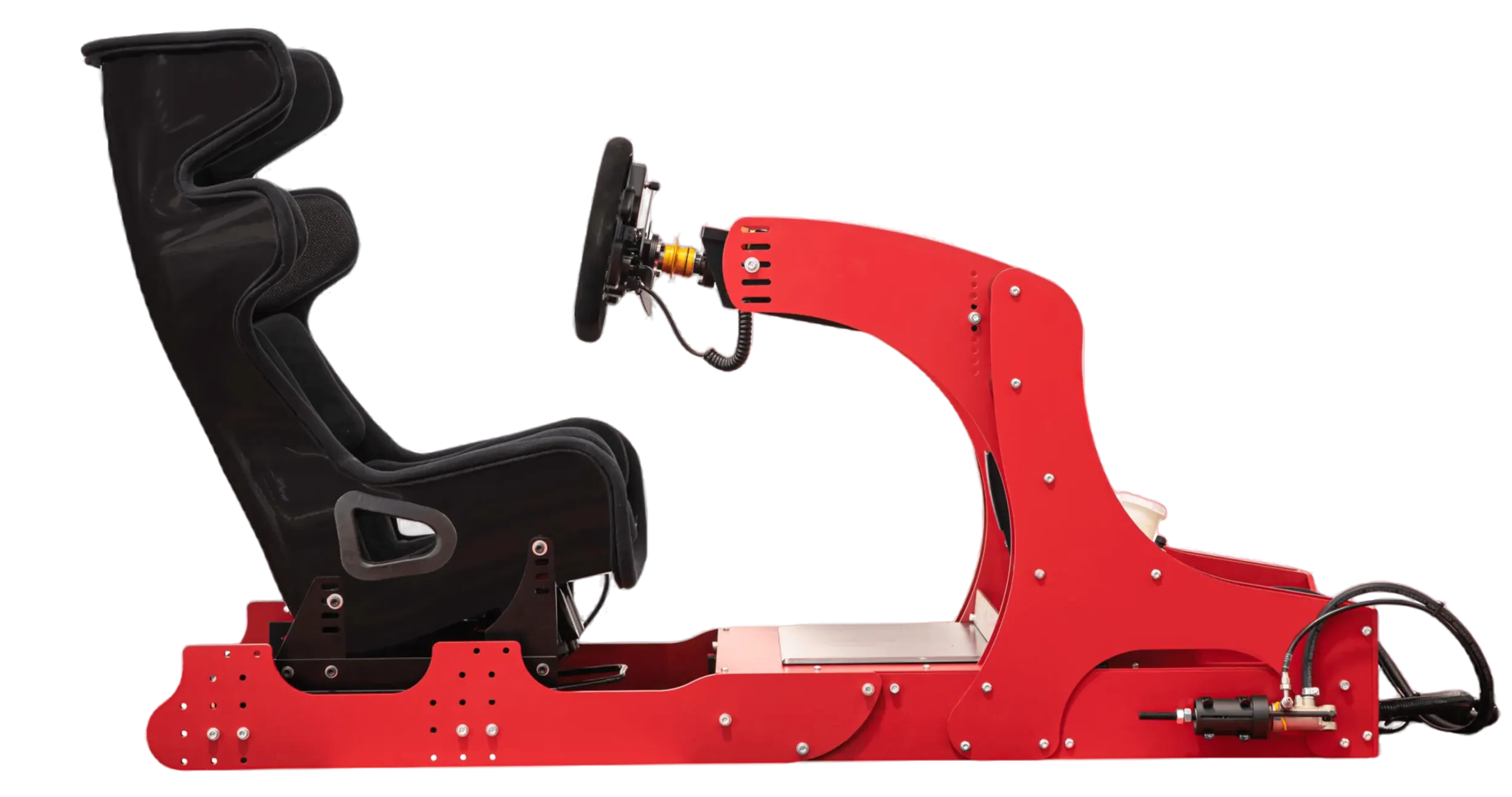 Why are our cockpits better than the rest?

We do not buy in our cockpits, we build them from scratch. Starting with drawings on paper to the simulators you see on our website.
We do not compromise on quality, we dont buy in thin or low grade metals
Our simulators come with a lifetime warranty, thats how confident we are in our product
Our simulators can be customised in anyway you wish, if a company cant customise any part of their simulator then you know they are simply a simulator assembly company!
Our simulators have no large overhanging parts to the steering motor (as mentioned above)
Adjustable, our simulator cockpits can be adjusted to your needs, the steering height, pedal or seat height/angles can all be changed very simply with our pre set mounting system.
For driver comfort and ease of movement, the frames have been made wide enough to enable braking with either foot in any position. We have also taken away obstructions typically found in other simulators such as moving the steering motor to be mounted from the side rather than the underside on our Formula Simulator. This enables plenty of space for knees to come as high as you would like without touching the sim frame and your feet to move from side to side without interference. Even with all this adjustment, the design is extremely robust and you will not experience any flex or movement whilst driving no matter how enthusiastic you get!
Despite our simulators being extremely complex, the frames have a solid construction and each simulator weighs in the region of 120kg excluding any parts such as the steering motor or pedals.
We deveoped the simultors to be broken down in weight, this allows ease of movement of the simulator, as its not reasonable to carry 150+kg of simulator!
Due to the standard of metal and finish we require, all of our metals are ordered 8 months in advance. When we produce over 40 parts per simulator cockpit frame, we have to undergo extreme quality control, and we leave up to one year in advance to ensure we get the finish and quality right.
When customising your cockpit, there is no limit to what you can do. You can choose the colour, material, and any special features you personally would like. We can cater to all needs and have years of experience in designing and implementing special features to simulators.