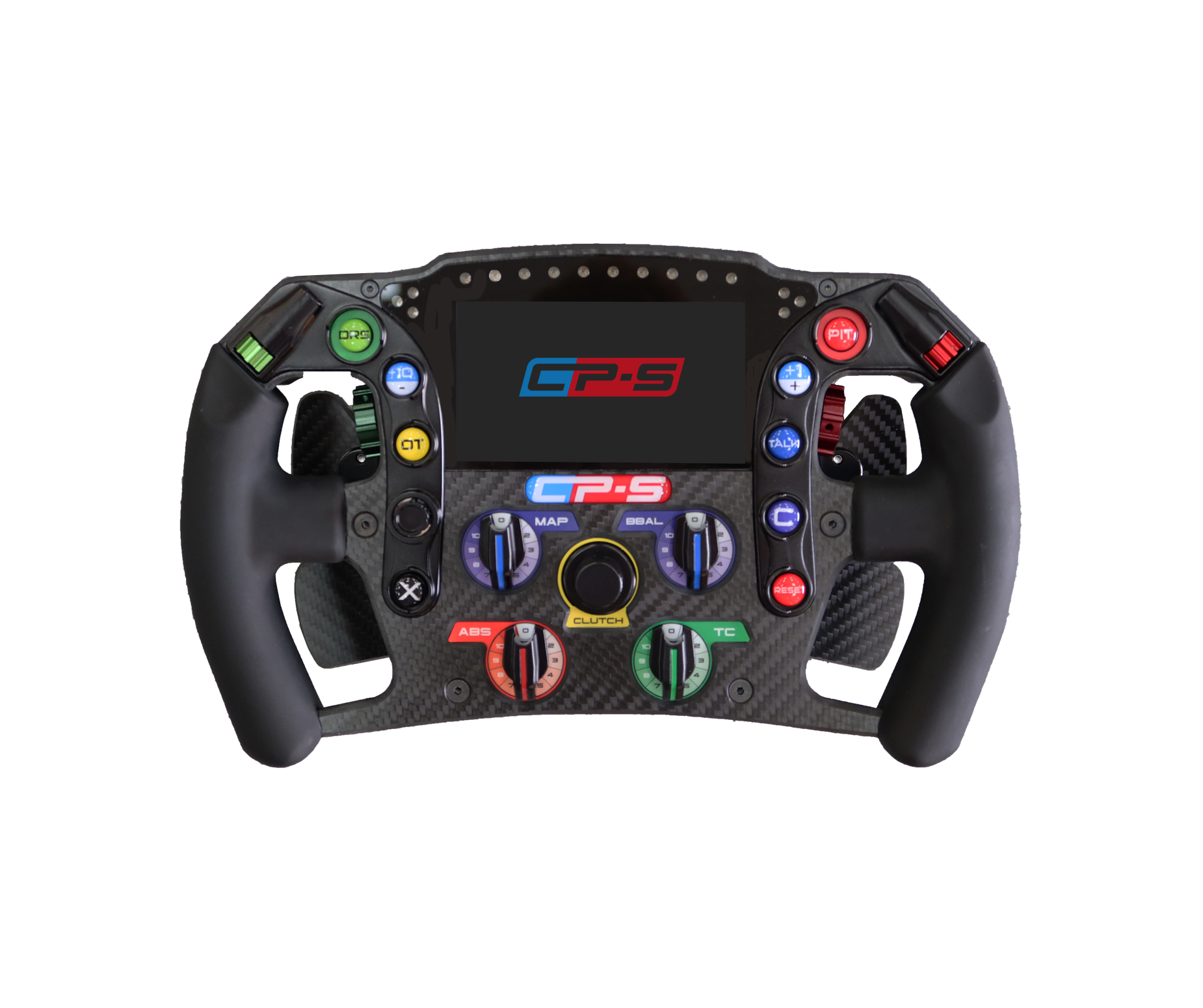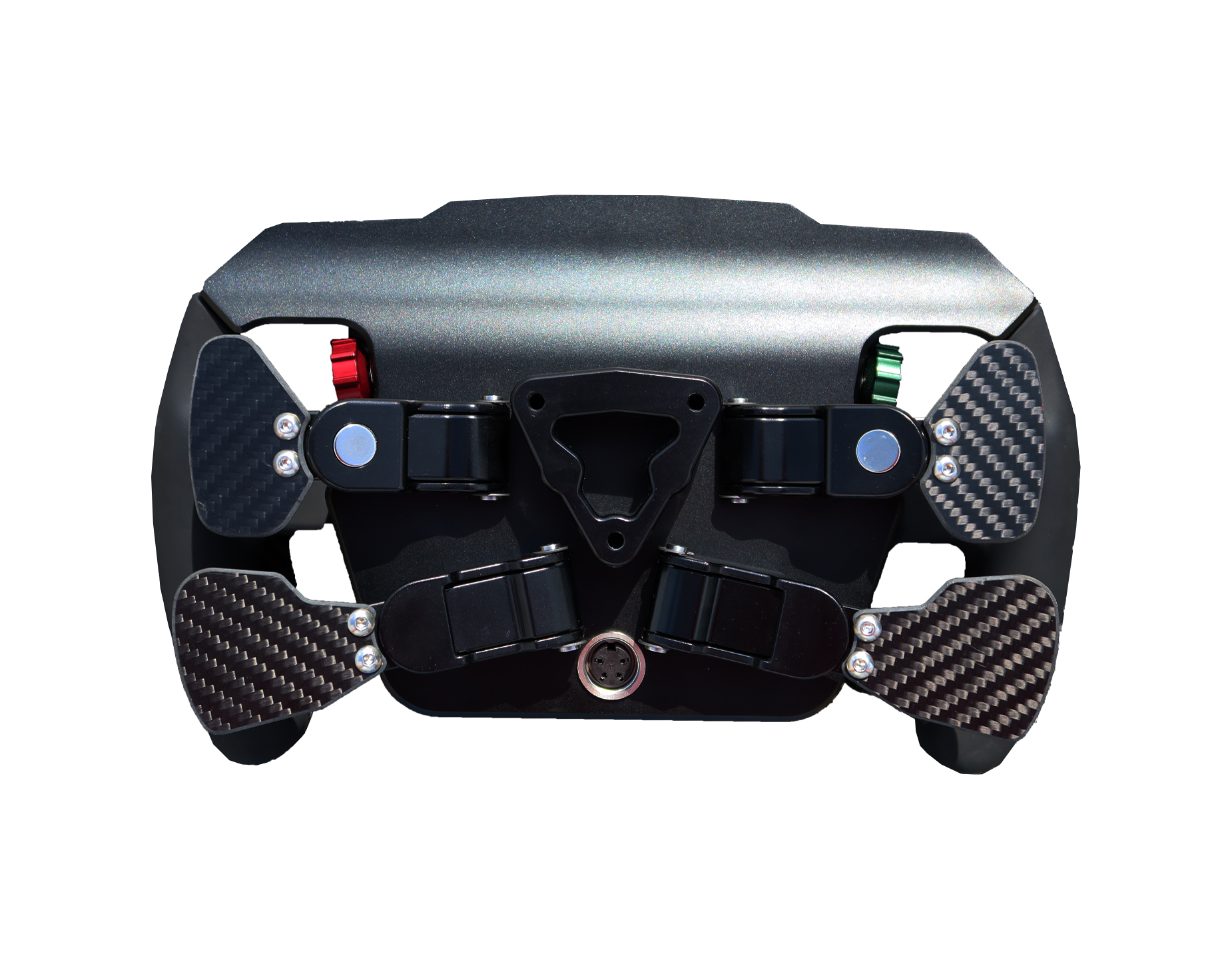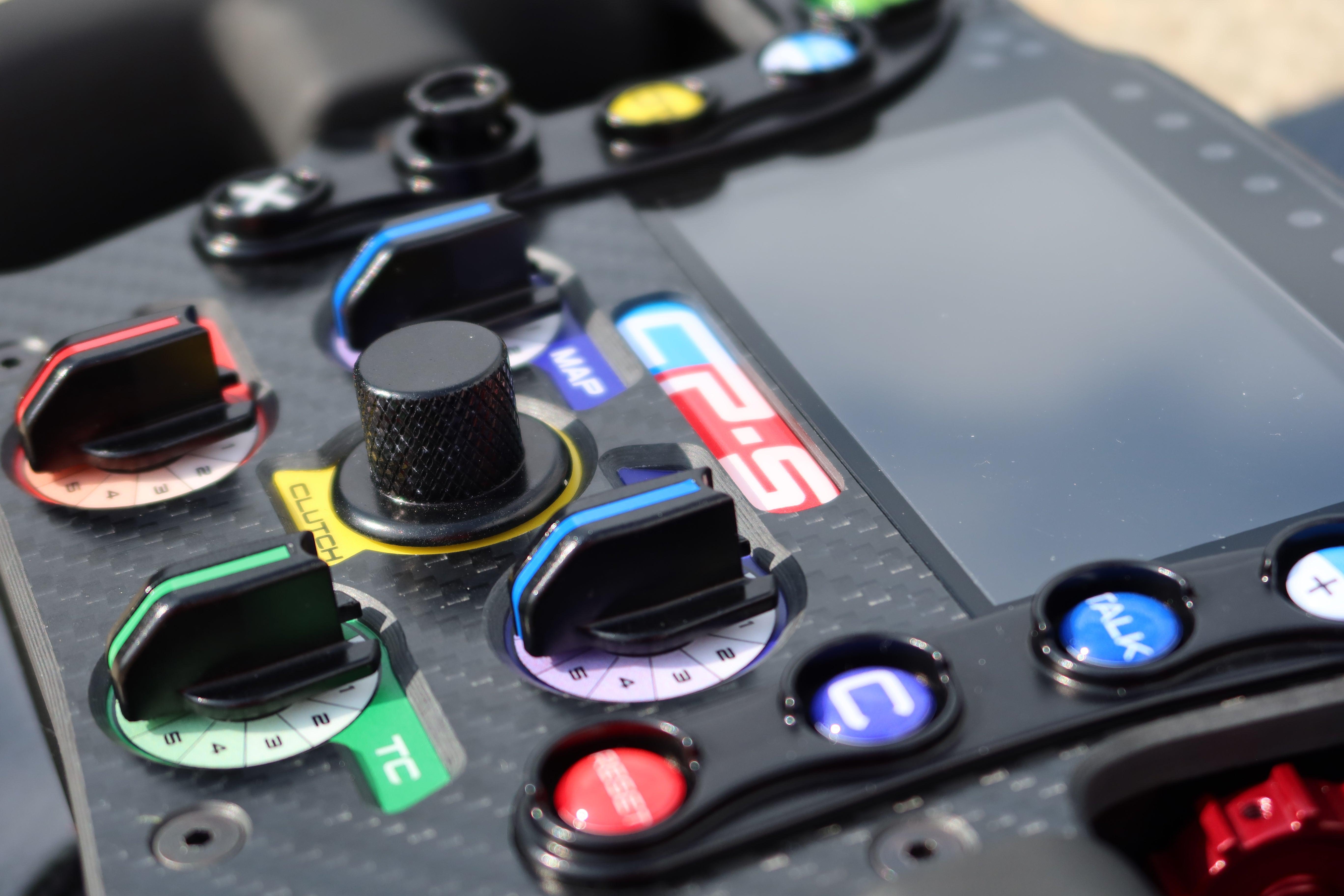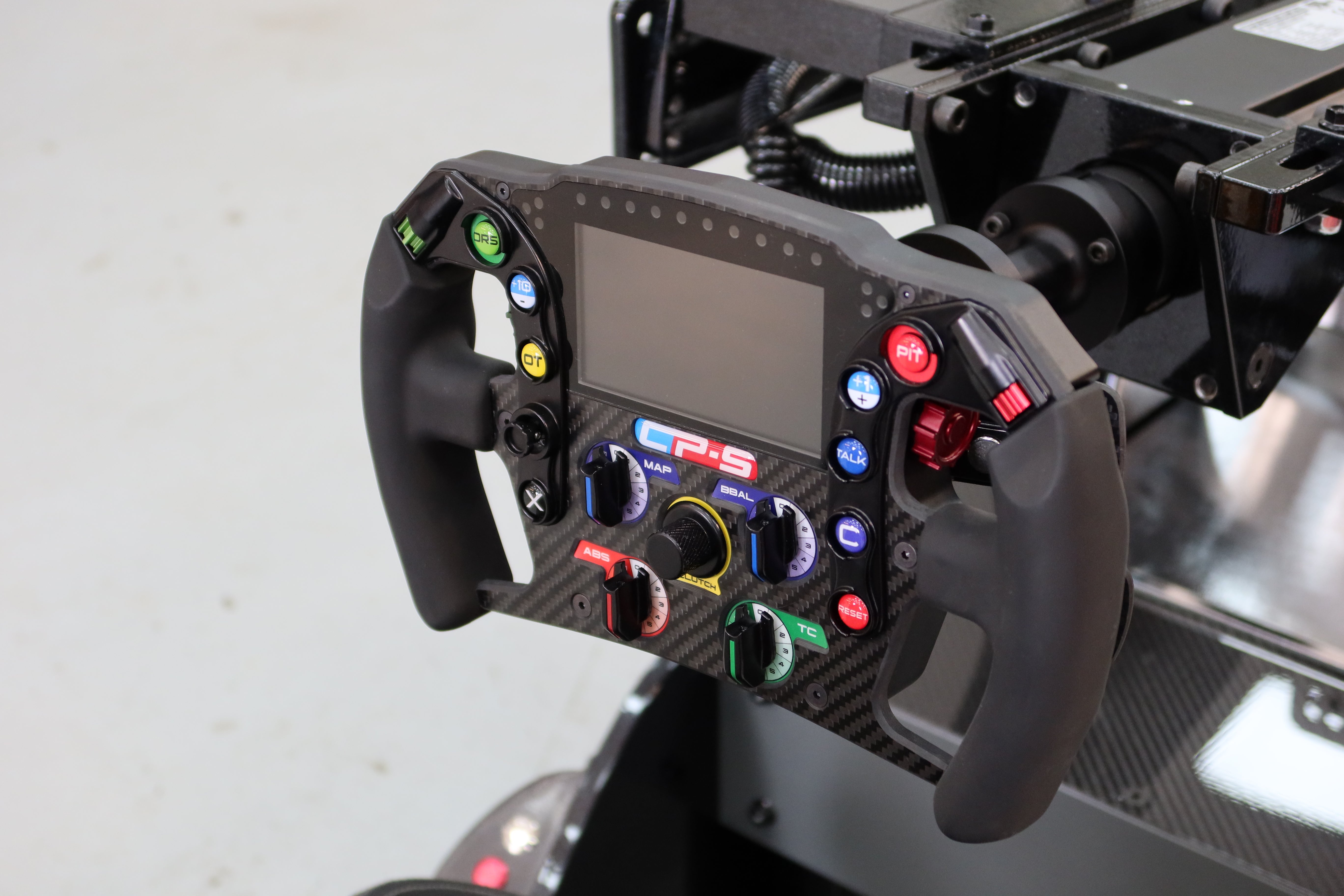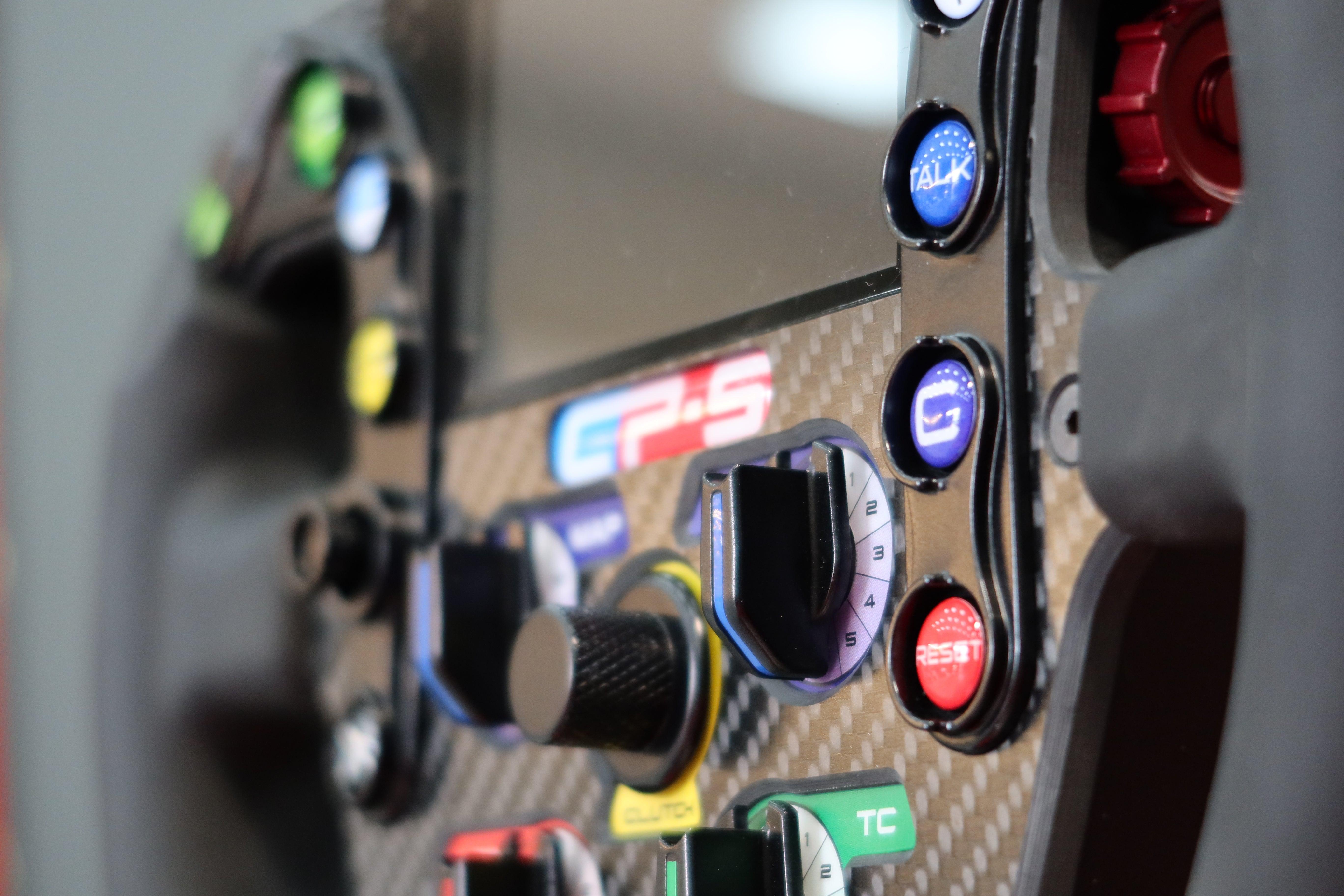 As Seen On Lando Norris' New GT Simulator
Key Information
• Car To Replicate: All Formula Cars
• Diameter : 287mm 
• Materials : Carbon Fibre and Aluminium
• Paddles : 4
• Warranty : 1 Year
This CP-S Steering Wheel was created using real-life measurements and functions from our expert team of designers who all have competed in motorsport, from the level in F1 to starting in the junior car categories. We knew this was important when creating a steering wheel to fit with the calibre of the Cool Performance name within the racing simulator industry, ensuring it feels and looks like something that will be in a race car.
Materials
Featuring a carbon faceplate and anodised aluminium button coverings, you receive the best functionality and the highest quality steering wheel available. We have gone into great detail with measurements of how your hands reach specific toggles, including the correct lip on the button covers to ensure you don't accidentally press or slip into pushing buttons. 
We knew that having carbon fibre was an essential touch to the steering wheel for your racing simulator. We ensured only A-Grade carbon fibre was used on this steering wheel. 
Button guards, shifter mounts, clutch mounts, thumb wheels, and the back casing are all anodised aluminium.
The rotary dials on this steering wheel are unique to the racing simulator space. We used high-detent custom motorsport grade dials to ensure the feeling of quality and functionality is the best, unlike many other wheels with lesser grade dials on the steering wheel.
Clutch Function
The clutch function is one feature that separates this steering wheel from other racing simulator steering wheels. You can programme your clutch by long pushing the middle clutch toggle and then turning it to adjust your bite point. This is all displayed on your dash to give you the exact clutch bite point. You can change the clutch adjustment in measures of 0.1%,1% and 10%, meaning you can accurately set your clutch per your car's needs.
All of the above features allow you to take complete control of your clutch. If that is on iRacing or Assetto Corsa, you can quickly and efficiently change your clutch settings with the push and turn of a dial. No more stressing on the pre-grid for your races with a standing start!
Watch Our Clutch Function Below.
Design
We designed and had this wheel manufactured due to a lack of accurate formula steering wheels within the simulator world. We created the CP-S wheel to replicate the feel of a formula car steering wheel for your racing simulator! We worked alongside numerous drivers like Lando Norris to ensure the finished product was up to the standard of what professional drivers expect when driving. 
The four items we focused heavily on with this steering wheel were functionality, feel, look and finish. We realised there are so many racing simulator steering wheels which lack all 4 of these qualities in the racing simulator world. This is a huge benefit when you look at the length of finer details we have created, such as the feeling on the rotaries, push buttons and paddles. To show you the level of detail with these parts, we trialled 30 springs in the clutch paddles until we were happy. No expense was spared when we set out to create this steering wheel. 
Specification
287mm Diameter injection moulded grips using high-grade moulding.  

9 tactile push button switches
HAT Switch with rotary and push button
Carbon fibre paddles and clutch paddles
9 custom spec rotaries with one dedicated to clutch function 
18 programmable LEDs for shift/abs/tc
4.3" display 
Magnetic paddle shifters 
A dual-clutch system with a dedicated rotary for bite point adjustable in 10,1 and 0.1% 
CNC machined button guard
Dash and LEDs are fully compatible with Simhub
The CP-S Wheel connects to a PC or Mac via a dedicated USB input. Not compatible with PlayStation or Xbox.
Quickly replaceable Industrial-Grade Coiled USB Cable (screw on) which connects to a panel. Giving you a clean and tidy finish.
C-PS logo sticker in the centre (gel domed)

Fits any 50.8mm Quick Release (Quick release not included.
All Orders Will Be Dispatched From July 1st. 


The Shifters-only variant is coming in late 2023.