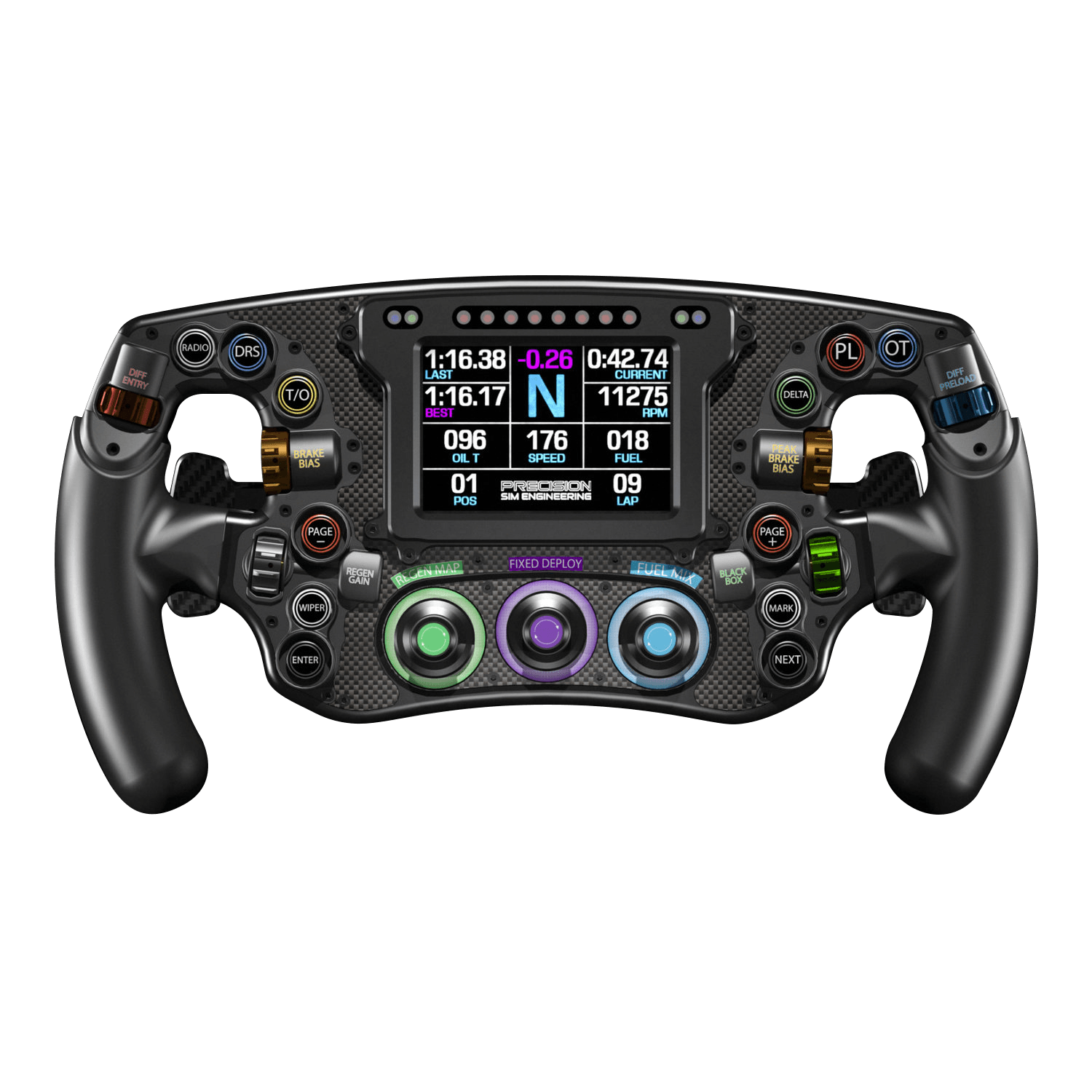 For the serious sim racer, here is the state-of-the-art 290mm grand Prix Professional Steering Wheel.
GPX wheels are used by professional racing drivers and sim racers around the world. You have complete control of your set-up with 9 rotary dials and 12 high-quality push buttons. 
Polyurethane grips and a full-colour LCD display round out the features of the GPX. Along with the magnetic gear shifters and carbon fibre paddles, you can choose dual-clutch paddles with an adjustable bite point. Drivers who know what it feels like have designed this Formula One-inspired steering wheel in-house. 
Features
Diameter: 290mm 

Injection moulded polyurethane grips

9 rotary dial controls 

12 high-quality push buttons 

PSE Magnetic gear shifters with carbon fibre paddles

Optional dual-clutch paddles with adjustable bite point

Full-colour LCD data display

Replaceable industrial-grade coiled USB cable
Features
290mm diameter 

Custom polyurethane grips which are injection moulded

9 customisable rotary control dials

12 responsive buttons to customise

Precision Sim Engineering be-spoke shift paddles produced out of carbon fibre

The choice of a dual-clutch paddle system with a bite point adjustment.

Full high definition colour LCD display

USB cable (industrial grade) which can be replaced to future-proof your simulator.
Compatible with
Hardware
PC or Mac

Any 50.8mm quick release coupling (not included)

Simucube SC2 + SC1

SimSteering

OSW

Accuforce (Accuforce quick release not included)

Fanatec Podium and CSW 2.5 via Fanatec Podium Hub (not included)
Check your setup
The Grand Prix steering wheel connects to PC and Mac via USB input. This wheel is not compatible with any other games consoles.
Please note: This wheel can take up to 4 weeks to build should it be out of stock. Please contact us prior to purchasing to check we have your wheel!
Downloads
Once you receive your steering wheel, download the GPX software below.
Please note: The lead time on this wheel is 3-5 weeks. Please contact us for accurate lead times.